What is a Discrete analyzer?
A discrete analyzer is an automated chemical analyzer in which the instrument performs tests on samples that are kept in discrete cuvettes in contrast to a continuous flow analyzer (SFA and/or FIA) that uses a peristaltic pump for a continuous stream of reagents.
Discrete analyzers have had a long, successful history in the clinical market, and were introduced into the Environmental and Wine markets about a decade ago.
Like other discrete analyzers, Astoria-Pacific's rAPID-T system is very simple to operate:
The Operator selects the test(s) he/she would like to run and enters the Sample IDs and any other pertinent information for the analysis
Sample cups and reagent bottles are loaded onto the system
The run is started
The system uses its robotic arm, sample needle and syringe to mix samples and reagents in replaceable and reaction cuvettes.

NOTE

: If selected to do so, the system can create a calibration curve from a single stock standard, thereby reducing time and errors related to manual techniques
Once the end point of the reaction is completed, the photometer measures the resultant absorbance
The data is collected by the rAPID-T software.

NOTE

: The data can then be exported to your LIMS system or other worksheet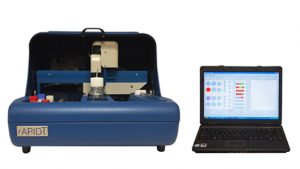 rAPID-T allows for online calibration prep, autodilution of off-scale samples and easy export of data and run files. It is compact, highly versatile and affordable:
Dimensions: 20″ x 24″ x 15″
Weight: 32lbs
Runs common applications for Drinking Water/Waste-Water: Nitrite, Nitrate, Ammonia/Ammonium, Orthophosphate, etc.
Runs common applications for Wine: Acetic Acid, L-Malic Acid, Ammonia, NOPA, Glucose+Fructose, Total Sulfite, etc.
Compact and affordable for any lab
Click HERE for more information
Please contact Astoria-Pacific to see how our discrete analyzer can complement an existing SFA system or how it can automate your applications for the first time. (Because, you know, our moms would tell you were awesome!)