Astoria2 Analyzer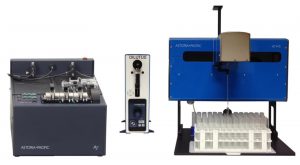 The Astoria2 Analyzer is tough, compact and extremely reliable. The two (2) channel Astoria2 main chassis includes a micropump, cartridge base and two photometers.
Like the Astoria Analyzer, the Astoria2 Analyzer uses micro-Segmented Flow Analysis with all the benefits of that technology are offered:
Fast analysis rates
Low reagent use, which is about 1/1o compared to other SFA and FIA systems
Low-level detection capabilities
Expanded calibration ranges
In-line dialysis, in-line distillation and in-line UV digestion techniques
The use of an optional diluter module
The use of optional fluorometric, UV and Flame photometric detectors.
The performance of the Astoria2 is outstanding. As an example, for ultra-low-level orthophosphate analysis, we have an analytical cartridge with a working range of 0.0005 – 0.5 mg/L as P.***
***NOTE: For even better detection capabilities (ppt levels), consider using a 50mm Liquid Waveguide Capillary Cell (LWCC) to achieve even better performance. Click HERE
The Astoria2 is also fully adaptable and can be upgraded as needed. It can utilize optional plug-in detectors (fluorometers, flame photometers, etc.) and/or can be expanded to a four (4) channel system by simply adding another Astoria2 module.
Common tests performed on the Astoria2 System for Water and Wastewater analysis are:
Alkalinity
Ammonia by GAS Diffusion
Chloride
Chlorine
Cyanide (Post Dist.)
HexChrome
Nitrate (Cadmium)
Nitrite
Ortho-Phosphate
Phenol (Post Dist.)
Silica
Sulfate
TKN
T. Nitrogen (Pers.)
T. Phos (Pers.)
Silica
For Wine Analysis:
Free Sulfite
Total Sulfite
Volatile Acidity
Continuing the tradition of reliability and robustness of SFA, the Astoria2 is a strong performer for the modern laboratory.