rAPID-T System
Astoria-Pacific offers an incredibly versatile, affordable, and fully automated system
The advantages of this system are numerous:
Multiple analyses can be run with no physical changes to the system
The operator can select what analyses he/she would like to run on each sample
Reagent consumption is even lower than our Astoria and Astoria2 systems, generally ~ 5 – 60 uL
In-line dilution of above-range samples and in-line standards prep from a single stock standard are included
Periodic maintenance is reduced because of the elimination of pump tubes, transmission tubing, dialysis membranes, etc.
The software is more intuitive and provides complete control of the system's components.
Affordable! For small, medium or large-scale labs!
*NOTE: Pricing in other countries vary
With a colorimetric detector, 40 place sample rack, a 10  place reagent tray, and quick analysis rates of up to 200 tests per hour, the rAPID-T makes quick work of many common tests like:
Alkalinity
Ammonia
Chloride
Chlorine
Cyanide (Post Dist.)
HexChrome
Nitrate (by Enzymatic or Vanadium)
Nitrite
Phenol (Post Dist.)
OPhos
Silica
Sulfate
TKN
Total Nitrogen (Pers. Digest)
Total Phosphorus (Pers. Digest)
In the Beer/Wine Industry a majority of our clients test for:
Acetic Acid
Acetaldehyde
Ammonia
Glucose+Fructose
Free Sulfite
Malic Acid
NOPA
Total Sulfite
The system is durable, affordable, and can be used in a winery or brewery of any size. Current clients using the system range from 3000 – 500000+ cases a year.
rAPID-T software quickly analyzes your samples. It can dilute any samples that than are above range, and/or you can have the system pre-dilute them as needed. Values can be uploaded into the software's integrated QC database and viewed in user-defined charts. A graphical display of the system provides real-time info such as samples in progress, time left for analysis, sample concentrations already collected, warnings of low reagent, etc.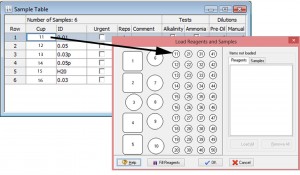 Keep in mind that the rAPID-T System is also the perfect complement to the Astoria or Astoria2 analyzers, or other SFA and FIA systems from other manufacturers. By bundling it with those systems, which can be used for in-line Gas Diffusion for Ammonia, sub-ppb levels, etc.), a formidable analytical package will be at the operator's fingertips.
Inquire today about how the rAPID-T System might benefit your lab.
rAPID-T Brochure:
Methods List and Applicable Ranges for Water and Wastewater:
Applications for Wine Analysis:
Applications for Beer/Malt Analysis:
General Analyzer Brochure: