ENDOCRINE / IMMUNOASSAY KITS (EIA)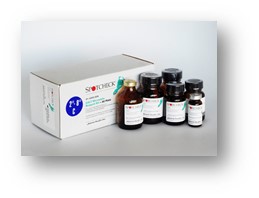 PRIMARY CONGENITAL HYPOTHYROIDISM | Biomarker: Thyroid Stimulating Hormone (TSH)
Under normal thyroid function, the level of the thyroid hormones T3 and T4 is inversely related to the concentrations of TSH and TRH in the bloodstream via a negative feedback mechanism. As a result of this negative feedback mechanism between the thyroid gland and the pituitary, TSH is always elevated in cases of primary hypothyroidism and often to very high levels. It is for this reason that the measurement of TSH concentration is a valuable diagnostic tool for the detection of hypothyroidism. The SPOTCHECK® TSH Neonatal Screening Kit is an enzyme-linked immunosorbent assay (ELISA).  A highly specific polyclonal goat anti-alpha (human) antibody has been immobilized onto each well of the 96-well microplates provided.
PRIMARY AND SECONDARY CONGENITAL HYPOTHYROIDISM | Biomarker: Thyroxine (T4)
At birth there is a sharp increase in T4 concentration that peaks at approximately 24 hours postpartum and plateaus 48 hours later. At this point the brain represents approximately 25% of the total body weight of the infant. Almost half of the postnatal brain growth occurs during the first six months. T4 levels begin to drop 3-5 days after birth and several weeks may be required before adult values are reached. It is during this critical 3-5 day period that assessment of T4 concentrations is essential. The SPOTCHECK® T4 Neonatal Screening Kit is a competitive Enzyme Immunoassay (EIA).
CONGENITAL ADRENAL HYPERPLASIA (CAH) | Biomarker: 17-Hydroxyprogesterone (17-OHP)
In classical 21-hydroxylase deficiencies the 17-OHP levels are markedly increased. However, the 17-OHP levels in normal infants are elevated in the first two to three days after birth. These high concentrations in normal infants decline rapidly to adult levels within the first seven to ten days. Low birth-weight, premature and sick babies may continue to have higher than normal 17-OHP levels for an extended time frame. For this reason, it has been recommended that a multi-tiered approach be employed to setting the normal cutoff. Laboratories must be notified of either dexamethasone therapy or transfusion status. The 17-OHP Kit is a competitive solid phase enzyme immunoassay (EIA) for the quantitative measurement of 17-OHP concentrations in neonatal blood samples that have been collected onto specimen collection paper.