NBS Product Offerings
Astoria-Pacific is a small business that is fully dedicated to providing our clients with the best support and applications as possible, and we are honored that Newborn Screening Programs rely on us to keep their newborns safe. We offer Laboratory Automation, Diagnostic Reagent Kits, and Blood Spot Control Materials to neonatal laboratories worldwide*.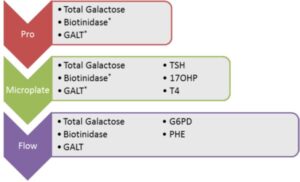 *NOTE: Products may not be available in all countries. Please check specific product availability with an Astoria-Pacific sales representative.